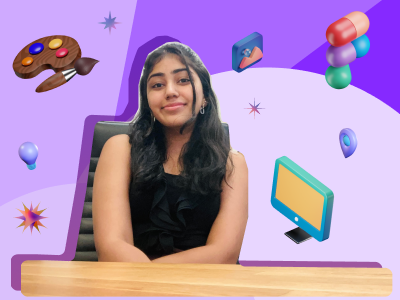 My summer internship at Grayscale
An affectionate send-off from our youngest intern, Darkan, after spending weeks of summer with Team Grayscale.
In my last summer in Hong Kong before I went off to university, I wanted to learn what potentially working in a more design-focused business would be like. As a business and design student at RCHK, I was very fortunate to meet K and Ash from Grayscale at my school's Design Day Fair. My group focused on analysing the Netflix brand and auditing its UX (photo below!). This fun workshop made me keen to learn more about the UX/UI design industry. I was grateful to receive the incredible opportunity to intern at their design agency.

Throughout the internship, I got the opportunity to do a wide range of things. I produced social media posts & templates (both on Figma and Canva), I compiled together UI references, conducted research into the UX of a client Grayscale was working with, did some Quality Assurance, a brand identity exercise, and experimented a bit with 3D design software! Being personally interested in designing socials and the business side of branding, exploring these new responsibilities and tasks gave me more insight into a potential career in design. Additionally, experimenting with new and different softwares has developed my interest in these spheres.
One exciting aspect of my internship was creating social media posts and templates for the Grayscale's social media account. I got to experiment and test my skills on platforms like Figma and Canva as well as conduct some desk research for the contents. I practised iterating and improving upon my work with feedback.
I have never used Figma before, which is a collaborative interface design tool commonly used for designing websites. My amazing supervisor, Ash, taught me different features on Figma specifically for graphic design. Not only did I create a social media post on Figma but I also compiled several UI inspiration references for an exciting rebranding project. It showed me how versatile Figma is and how it can be used for a range of tasks. My exposure to Figma helped broaden my horizons and sparked my interest in exploring the intersection of design and technology.
I also got to experiment a bit with Spline, an online 3D design tool where I made a cool animated blob, a moving cursor animation and 3D glowing circles. With animated and interactive website designs becoming more popular, learning how to create different kinds of 3D animations that can be used for such interfaces is extremely useful. I got to develop new skills as well as learn different tools and features on Spline that can be applied to other design softwares as well.

Another task I was involved in was conducting quality assurance for a client's website. This involved reviewing the staging site as different user roles, ensuring that the design elements were consistent and testing for errors. Through this, I learned the importance of attention to detail and taking detailed notes including how to get to the error so developers can help to fix them. It was fascinating to witness how small design tweaks could enhance the overall functionality, user experience and aesthetics of a website. I also got to sit in on meetings and hear about exciting new leads as well as progress on other projects in the weekly Grayscale meeting.
Additionally, I did a short brand identity exercise workshop that showed me the importance of fully understanding one's brand identity before starting a process. Understanding brand identity is becoming increasingly demanded across businesses and workshops like these are extremely helpful in doing that. An exercise like this is usually done in the initial stage of a project and it can help clients get a clearer idea of who they are as a brand, which in turn helps designers understand what kind of tone and style they want for their brand.
I also finally understood why teachers at school focused so heavily on design-based theory. Now I see how applicable those concepts are to real-world design processes. Just within the first week of my internship, I got to experience aspects of branding both at the start and end of the process. From quality assurance of a website to social media, and learning how to use new software, such as Figma and Spline, my time as an intern has been a transformative journey.

In addition to the valuable experiences I gained during my internship, I was fortunate to have a supervisor who made my internship an enriching and memorable experience. From the first day, Ash took the time to understand my aspirations and goals, tailoring my internship experience to align with my interests. I am extremely grateful for her guidance throughout the internship. She also took the time to teach me different skills and software and explain to me different projects that Grayscale was working on. Her friendly nature made me feel comfortable and encouraged me to ask questions whenever I was in doubt.
Embarking on this internship at Grayscale has provided me with extremely valuable insights into the world of design and branding. Beyond the practical skills and knowledge that I have acquired, I have discovered a genuine passion for design and this internship has played a significant role in inspiring my future aspirations and giving me a clearer direction for my career path. Thank you Grayscale for giving me this opportunity!