Working at Grayscale
At Grayscale, we work in a team as well as independently on all kinds of projects. Our comfortable open office situated with a view over the Victoria Harbour with access to a diverse range of restaurants in the Fortress Hill district will help you fit right in. 
Good design is like a refrigerator—when it works, no one notices, but when it doesn't, it sure stinks.

— Irene Au, Operating Partner Khosla Ventures
Current openings
Interface Designer
We're hiring a (junior) interface designer whose job it will be to inform our development team what we're putting together. You'll receive direct guidance from our design lead, and collaborate closely with our team of project managers, designers and developers, as well as clients and the people for whom we're designing. 
Your day-to-day tasks will be doing research, drafting smart content strategies, designing logical wireframes and cooking dope visual designs, and participating in frequent check-ins along the design trajectory. 
Send your CV & portfolio to [email protected] — don't forget to write us a short description of you, and why you'd like to work at Grayscale!

We are…
… a motley crew.  Since 2011, we have successfully delivered projects in collaboration with over a hundred clients. We've reimagined the online experience for leading business schools, helped bring the workforce of Cathay Pacific closer together, and designed an ethical money-lending platform from the ground up. Grayscale sets up start-ups, NGOs and MNCs alike for success.
On a day-to-day basis, Grayscale designs sites and apps, with all the chewy bits in between. Our projects have one thing in common: we make (often complicated) processes simple to do.
Let's say you're booking a travel insurance. Insurances are icky to get right. In order to make this simple for you to do, we'd best start with what you're hoping to achieve and check that against the insurance company's business goals and brand values. 
Design is problem-solving, so through user experience research we define the project's challenges, and strategize how to overcome them.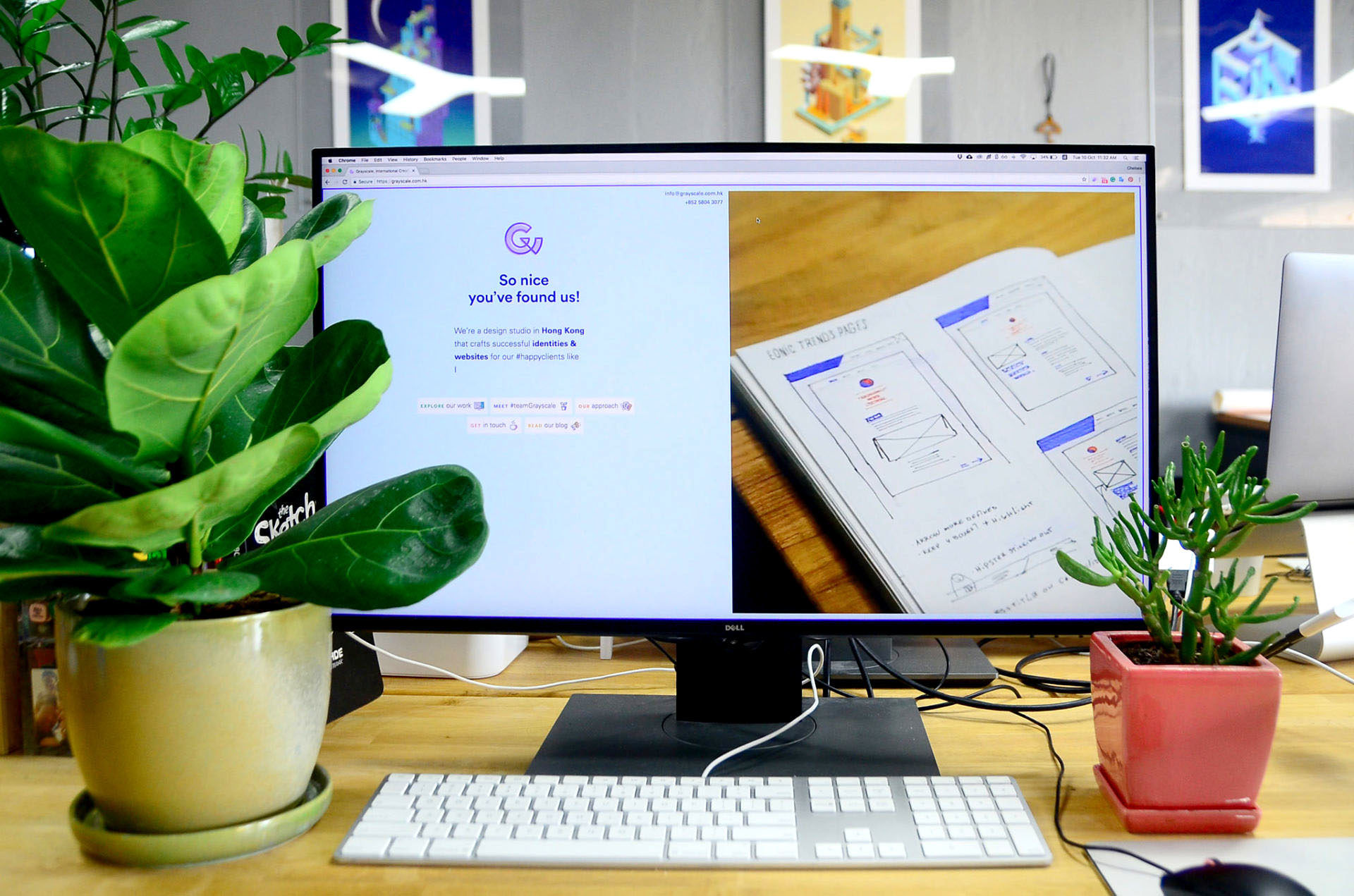 You are…
… kind-hearted, patient, attentive and eager to learn. That's it. That's all we're asking of you. 
Working at Grayscale
Making simple stuff is hard. So we'd like to do that in an environment that you'd feel comfortable in. Grayscale harbours a free-spirited open-office culture. You get to grow with us and learn all sorts of new cool stuff everyday. You're permitted to make mistakes, as long as you are willing to learn from them. Most of our work is in a commercial context. 
I am very grateful to the team for being supportive – they really are a closely-knit family.

—Ethelia Lung, 2015 Grayscale intern and 2018 YouTube rockstar
We think doing overtime is a symptom of poor planning so we try to avoid it like the plague. Our working times are 9am-6pm so you have plenty of time to go out and be a decent person someplace else.